Welcome to the GrassGames' Hearts Official Home Page.

VERSION 2 IS OUT NOW!
Main New Features
New network system with moderated lobbies and unique usernames.
Online network rankings.
Awards system added.
Statistics now available for local and online games.
Avatars.
Updated graphics & animations.
Download the free Mac version here or the free Windows version here.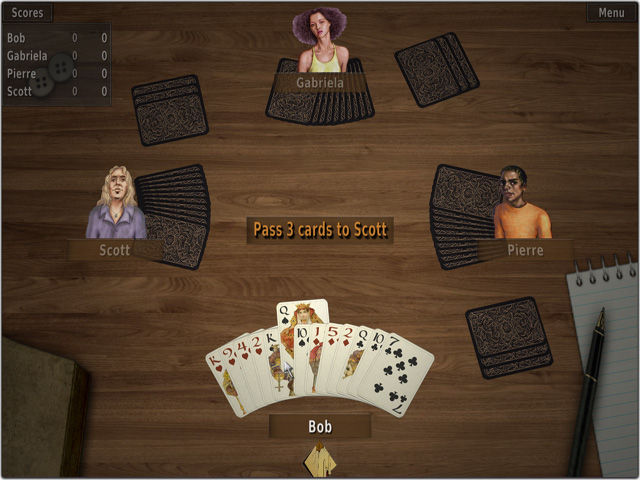 Note
Only Mac & Windows versions are available at the moment.
Mobile versions will be coming soon.

QUICK LINKS
Scroll down for more information about the game.

ABOUT GRASSGAMES' HEARTS
GrassGames' Hearts is a beautiful 3D computer game version
of the popular card game for 3 or 4 players.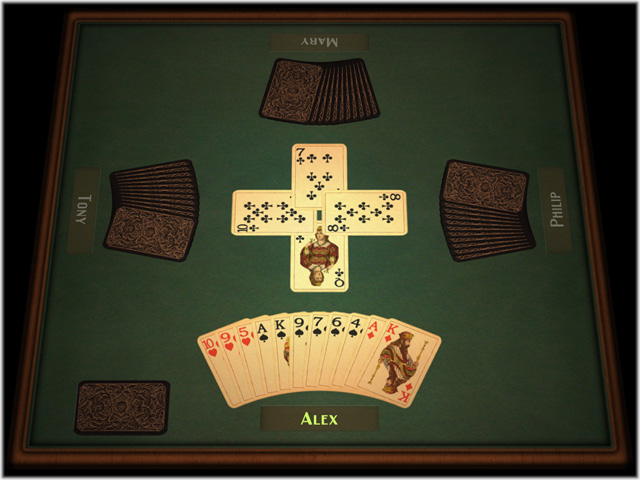 (click the picture for a larger view)

FEATURES
GrassGames' Hearts comes with the following:
| | |
| --- | --- |
| | Standard, Spot Hearts, Omnibus and Black Maria variants |
| | Full Cross Platform Network Play * |
| | Intelligent Computer opponents |
| | 3D cameras and animation effects |
| | Fully customizable card decks and backs |
| | Create and print out your own card decks |
* Network play is currently possible between Macs & PCs at the moment.
Mobile versions will be coming out soon.

IPHONE VERSION (V1.7)
GrassGames' Hearts Version 1.7 is available for the iPhone and iPod Touch!
Version 2 will be available soon.
Click a link below or search the AppStore for "GrassGames" (one word).
REGISTER
GET GRASSGAMES' HEARTS FOR ONLY $9.95!
| | |
| --- | --- |
| | Includes free upgrades for 2 years |
| | Includes both the Mac and PC versions |
| | Immediate download after purchasing |
| | Install the game on up to 3 computers |
| | 100% Clean - No viruses or spyware |
| | 30 Day Money Back Guarantee* |

* If you don't like the game for whatever reason, or have any problems with the game,
GrassGames will return your money in full, at no cost to you whatsoever.

All major credit cards accepted. Phone and fax orders available also.

HELP AND SUPPORT
Lots of help available on the GrassGames Network Help Page.
Comments, suggestions, or having other troubles ? Go along to the Forums.