SUBSCRIPTIONS
NOTE
This information is for Mac and Windows versions
downloaded from GrassGames.com only
After you order a subscription for the game, you will need to enter it into the game.
People who have bought the full version of the game recently can also
get a subscription code by logging into their customer account.
Mac users can go here for more info, Windows users can go here.

Your subscription code will look something like this.
Note that the key code is a long string of numbers and letters.
For example (this is not your code):

From within your e-mail app or web browser,
using your mouse or trackpad,
select all of the key code text,
then select "Edit" then "Copy" from the menu.

When the text is selected it should look something like this:


To enter your code into the game, start the game, go to the "About" screen from the main menu,
and then click the "Details..." or "Extend" button you will see in the subscription section: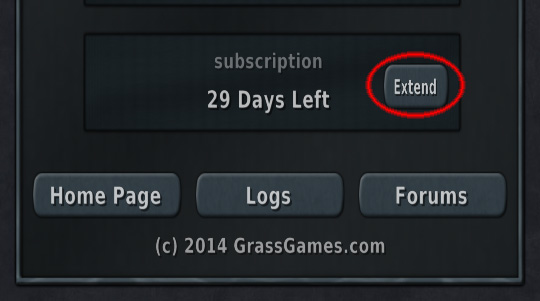 If you do not see a subscription section, you may be using an older version of the game.
Remember, this information does not apply to Mac App Store or mobile versions.

From the subscription screen press the "Enter Code" button: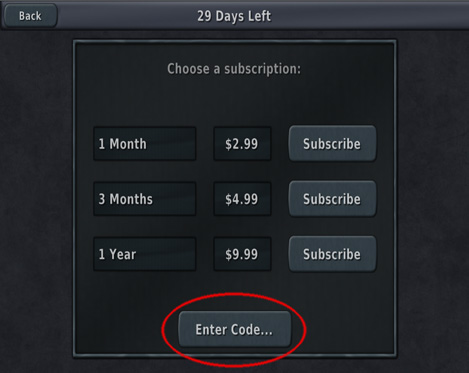 Now you need to enter your code into the screen shown.
Type in your first name and last name as shown in your subscription code.
Next press "Paste" to fill in the key code that you copied above.
Press "Add Subscription" to complete the process.