Welcome to the GrassGames' Cribbage Official Home Page.
QUICK LINKS
Scroll down for more information about the game.

NEW BETA VERSION AVAILABLE!
Version 4.01 Beta is available for testing for both Macs and Windows.
Contains a new networking system.
The forums here have more details. Help is also available here.
Note: The Beta version can be installed alongside the normal version of the game.

ABOUT GRASSGAMES' CRIBBAGE
GrassGames' Cribbage is a beautiful 3D computer game version
of the classic 400 year old card game for 2 players.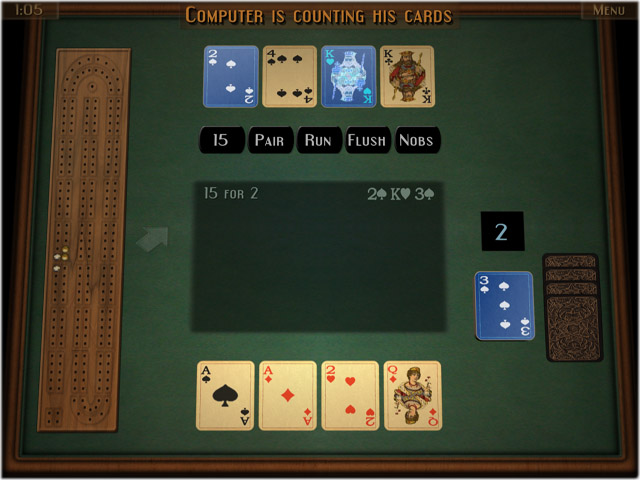 (click the picture for a larger view)

FEATURES
GrassGames' Cribbage comes with the following:
| | |
| --- | --- |
| | Intelligent Computer opponents |
| | Full Cross Platform Network Play * |
| | Muggins! |
| | 3D cameras and animation effects |
| | Fully customizable card decks and backs |
| | Create and print out your own card decks |
* For network conections, the same version of the games must be used.
See this page for more info.

DOWNLOAD FREE TRIAL VERSION
Available for both Macs and PCs.
100% Clean. No viruses, spyware, etc.

REGISTER
GET GRASSGAMES' CRIBBAGE FOR ONLY $9.95!
| | |
| --- | --- |
| | Includes free upgrades for 2 years |
| | Includes both the Mac and PC versions |
| | Immediate download after purchasing |
| | Install the game on up to 3 computers |
| | 100% Clean - No viruses or spyware |
| | 30 Day Money Back Guarantee* |

* If you don't like the game for whatever reason, or have any problems with the game,
GrassGames will return your money in full, at no cost to you whatsoever.

All major credit cards accepted. Phone and fax orders available also.

HELP AND SUPPORT
For more information about Cribbage and for the rules of Cribbage, go over to the help page.
Comments, suggestions, or having trouble ? Go along to the Forums.